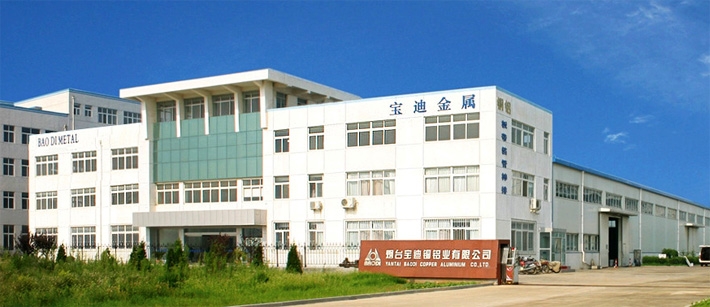 Yantai Baodi Copper & Aluminum Co., Ltd was established in 1993 with the registered capital 20,000,000 Yuan,belongs to Baodi Jingshang group.It is a company that specialize in producing, processing and selling aluminum and copper products; The company can supply net scale specification according to costomer's inquirement.Our company is a professional non-ferrous metal company with the importing and exporting right.
Our main operating organizations: Production department, Technology and Quality department, Domestic sales department, International sales department, After-sales service department,Dalian branch company,Qingdao banch company, Weifang branch company.Professional Processing: Our company own professional processing equipment such as roller,annealing stove,tension leverler, slitting machine, Extruder, Sheet shear machine, Plate sawing and cutting machine, Tube and bar sawing machine, Circle&triangle cutting machine,cover film machine etc.
Professional producing&selling: Aluminum Series: pure aluminum plate&sheet,aluminum alloy plate&sheet, duralumin plate, aluminum coil, aluminum tread plate, aluminum round rod, aluminum square bar,aluminum flat bar, aluminum pipe, aluminum profile for industry,special aluminum extrusion etc.
Copper series: copper plate&sheet, copper strip,copper pipe,copper bar,copper wire,copper profile etc.
Perfect Service: Our company advocates enterprise culture idea as"the honest credit, the standard management, the technical service, the social contribution". We have maintained the friendly harmonious cooperation with the domestic and foreign partners for many years. Regarding the multi-varieties, the multi-specification's demand customer, our company also has the specialty to choose the material and the prompt allocation. Relied on 20 years development and the influence as well as the high-quality service, presently the domestic sale network of our company has covered Yantai, Qingdao, Dalian, Weihai, Weifang and Shandong, Liaoning, Jiangsu, Hebei, Tianjin as well as Northeast, North China, East China, and still stretch in other area. Our international service has also establish long-term, stable copperate relaship with countries in Europe, America, Southeast Asia, Middle East and Africa.
Baodi Jinshang GROUP includes several company:Yantai Baodi Copper&Aluminum Co.,LTD,Yantai Baodi Dalian Branch compay,Yantai Baodi Qingdao Branch company,Yantai Baodi Weifang Branch company and Yantai Goldsun Solar Energy Tech. Co., Ltd,Goldsun New Energy Science&Technology Co.,Ltd, etc.